From Mean Streak to Steel Vengeance: A timeline of Cedar Point's newest roller coaster
We break down the nearly two-year journey it took to bring Steel Vengeance to life at Cedar Point.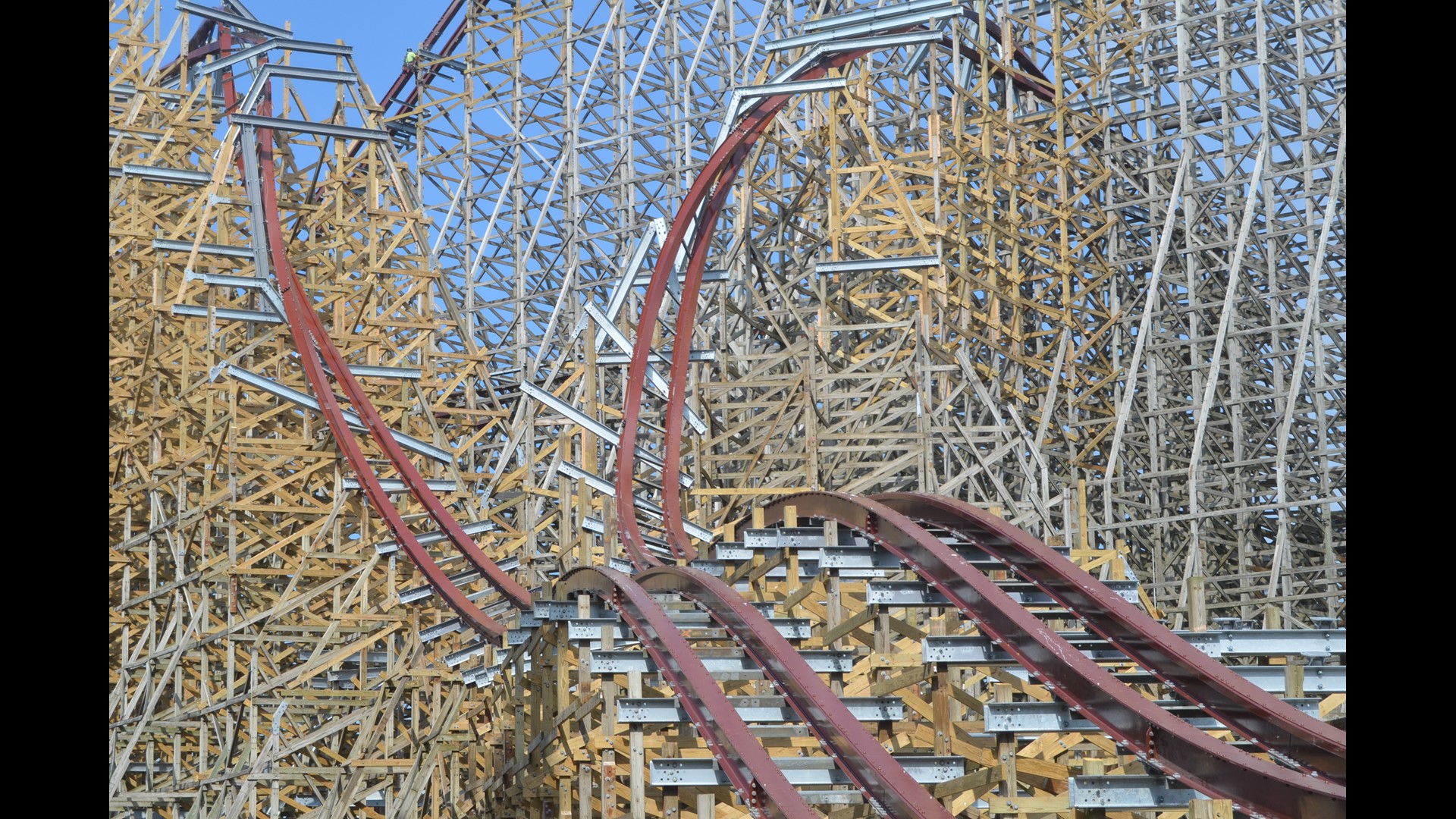 SANDUSKY, Ohio -- It has been a long time coming. Now the moment is finally here...
Steel Vengeance has come to life at Cedar Point.
Rising from the footprint of the former Mean Streak roller coaster, Steel Vengeance is an all-new record-breaking ride that combines wood and steel to create a much smoother experience.
The journey began nearly two years ago with the news that Mean Streak was going away forever, and that's where we begin this in-depth timeline...
(App users CLICK HERE for the best user experience).
Mean Streak 'gets the axe'
:
Cedar Point reveals plans to dismantle its rickety roller coaster
PHOTOS | Mean Streak at Cedar Point
WKYC interviews park spokesperson Tony Clark about what will happen to Mean Streak's wood as the ride is dismantled. "We're taking it down. We're not gonna really give it to anybody. We're not going to sell it. We're not gonna auction it. It's gotta go. If that changes and we want to build some special chairs or furniture and sell it in the park, we'll let people know, but I don't think there's big plans for that wood."
After 25 years and 26 million rides, Mean Streak unleashes its final screams during opening night of HalloWeekends. A "funeral" was held to bid farewell to the coaster, which is given a grave in the park's annual Halloween "dead rides" cemetery. Super fan Mean Streak Henry says goodbye to his favorite coaster after taking more than 16,000 rides throughout the years.
Steel Vengeance is born
:
Record-breaking roller coaster finally revealed
The secrets are revealed as details of the coaster are unveiled during a special "Hootenanny" in FrontierTown.
Cedar Point confirms that construction on Steel Vengeance is 95 percent complete. "There's just the initial drop and the top part of the lift to finish," Clark says.
WKYC is given a tour of the construction site for an up-close view of Steel Vengeance. The ride's main sign is still being put into place. Still, none of the ride's roller coaster trains have arrived.
PHOTOS | Steel Vengeance construction tour at Cedar Point
It's alive!
:
Steel Vengeance is unleashed
The park shares a brief video clip for the first time that shows what it looks like from the ride's front seat as the coaster train plummets down its 90-degree first drop.
WKYC's Ryan Haidet is asked to be among the first to ride Steel Vengeance. The media invitation features a deck of cards with the three Steel Vengeance characters: Digger, Chess and Blackjack.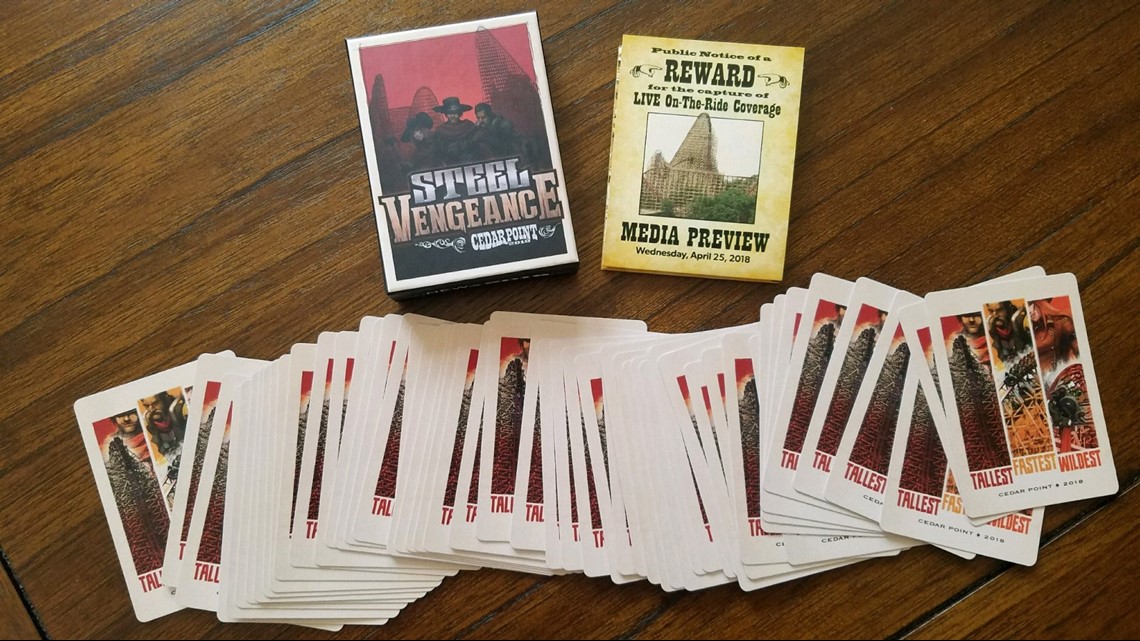 Steel Vengeance welcomes its first riders at Cedar Point -- and video of the entire roller coaster experience has finally been unleashed! In the new footage, Cedar Point's Vice President / General Manager, Jason McClure, climbs aboard Steel Vengeance with park spokesperson Tony Clark.
Clark tweets out two images showing off the Steel Vengeance ride signs.
Cedar Point releases the first official commercial for Steel Vengeance. The 30-second animated spot showcases a dusty FrontierTown surrounded during a steamy sunset.
A change is made regarding the ride's minimum height requirement. After running tests, park officials determined all riders must be at least 52" tall to ride, which is 4" taller than originally announced.
WKYC rides Steel Vengeance live on TV for the first time at 6:40 a.m.
Cedar Point opens for the 2018 season, which means the general public gets their first chance to ride.
Steel Vengeance fast facts
:
From world records to stunning stats
- Tallest hybrid roller coaster (205 feet)
- Fastest hybrid roller coaster (74 mph)
- Longest hybrid roller coaster (5,740 feet)
- Steepest drop on a hybrid roller coaster (90 degrees)
- Longest drop on a hybrid roller coaster (200 feet)
- Most inversions on a hybrid coaster (4)
- Fastest airtime hill on a hybrid coaster (73 mph)
- Most airtime on a hybrid coaster (27.2 seconds)
- Most airtime on any roller coaster (27.2 seconds)
- World's first hyper-hybrid roller coaster
STEEL VENGEANCE RIDE STATS
- Ride time: 2 minutes, 30 seconds
- Capacity: 1,200 riders per hour
- Model: Hyper-hybrid (Wood-steel coaster higher than 200 feet)
- Lift hill height: 205 feet
- Angle of first drop: 90 degrees
- Vertical drop height: 200 feet
- Total track length: 5,740 feet
- Ride: Three, 24-passenger trains named after 'Wanted' characters "Blackjack," "Digger" and "Wild One"
- Restraints: Lap bar with redundant safety belt